Westin Public Safety Division Introduces The EliteXD Push Bumper
---
San Dimas, CA – Westin Automotive Public Safety Division is proud to introduce the EliteXD Push Bumper. The EliteXD Push Bumper is an all-new design that is based on the Elite front-end protection program but is a clear representation of heavy-duty style. It provides multiple options for your agency's specific lighting requirements with your choice of a 2 or 4 Light Top Channel* that will accommodate Code3, Federal Signal, Whelen, or SoundOff Signal LED lights. 
The EliteXD Push Bumper is made of heavy duty 4 gauge steel uprights with the strength to significantly absorb the brunt of a direct impact. It features 2 3/4 inch wide heavy-duty rubber strips on the uprights and a removable full punch plate grille. The grille provides for an additional option for mounting auxiliary lights or speakers directly to it and is also removable. Uprights are pre-drilled for additional light or speaker mounting options as well as for the optional addition of EliteXD Wing Wraps. The EliteXD Push Bumper also features an extra wide 4 5/8" stylized and pre-drilled center cross-plate, a significant surface area for top-mounting of LED lights or speakers. All exposed fasteners included in the vehicle specific mount kit are black plated stainless for protection against rust.
The 2015 Tahoe/Suburban and the 14-15 Silverado are the first applications scheduled to be available in the EliteXD Push Bumper style.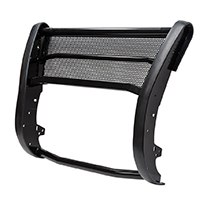 PRODUCT FEATURES
• Made of heavy duty 4 gauge steel uprights
• Wider rubber strips measure 2 3/4"
• Removable full punch plate grille
• Auxiliary lights can be mounted directly to the EliteXD punch plate grille
• Extra wide 4 5/8"center cross-plate is stylized and pre-drilled
• Uprights are pre-drilled for side-mounting LED lights or speakers
• Mount kit and hardware included
• All exposed fasteners are black plated stainless
• Does not interfere with SRS Airbag System
• Lower tube for extra protection and strength
• Extra grille and front-end protection
• Solid Top Channel sold separately
• Top Channel options available for 2 or 4 Lights*
• Easy no-drill installation
• Optional EliteXD Wing Wraps available (sold separately)
• Pre-drilled uprights for adding EliteXD Wing Wraps 
• Designed, engineered and tested in the USA
*Sold Separately. Lights not included.
Westin Public Safety products are designed, engineered, and tested in the USA. 
For more information on this or other Westin products, please call customer service at 1-800-345-8476.

Request more info from Westin Public Safety Division
Thank You!