Westin Public Safety Offers Code3 "Chase" LED Light Channel for Push
---
San Dimas, CA – Westin proud to announce the availability of a new LED Light Channel option for Push Bumper Elite! Public safety agencies now have the option for a Code 3 "Chase" style, 3 Light Channel option (PN# 36-6005C3CH) for Westin Push Bumpers. Currently available for Ford Interceptor Utility and Sedan, Chevy Caprice, and Dodge Charger Pursuit Elite Push bumper applications.
The Light Channel features 3 light openings that are spaced evenly on the "patent pending" Light Channel, and are designed to accommodate Code 3 "Chase" style lights.  Lights not included. Up-fitters can count on Westin's easy installation with the hardware included. It comes in black powder coat to match push bumper finish.
Westin's Public Safety Push Bumper Elite is designed with maximum safety features and options in mind. It offers customization for your agency's specific needs and provides the best in strength, durability, and protection. Westin offers solid (no light openings), 2, 3 or 4 Light options. Westin's Push Bumper Elite is U.S. patent pending. For information on Code 3 "Chase" style LED Lights, please visit their website: http://www.code3pse.com/products/product_info/Police/Search_Results/C_CHASE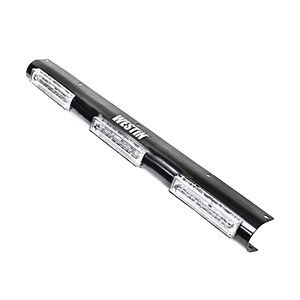 About Westin Automotive Products, Inc.

Request more info from Westin Public Safety Division
Thank You!