IACP 2013: De Anza College credits Zero Motorcycles for patrol effectiveness
These motors are as silent as a panther until the officer lights 'em up, so officers can sneak up on wrong-doers before they even know there's a copper nearby
---
During my Sunday afternoon walkabout on the Exhibit Hall floor, I ran into my friends at Zero Motorcycles. Most will recall that Zero is pretty much the market leader in the electric motorcycle industry. Their 2013 police motors are built on the platforms of the all-new 2013 Zero S and Zero DS and are fully outfitted for law enforcement duty.
At some point during my brief visit, I became aware of a difference between the logo on the booth and the logo on the guys' shirts. I asked if the logo on the booth was new, and if so, if it indicated anything new with the company I might want to report about.
I got the kind of answer scribes like me tend to get in such situations — roughly, I can't tell you that just yet — and was coyly advised that on Tuesday I should keep my eyes on my email "for some news."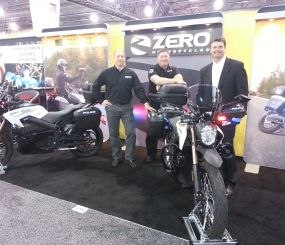 Transferring Zero's College Credits
When I pressed the guys in the booth, "Come on, what's new?" I did learn something pretty interesting.
The company just last week shipped two new motors to De Anza Community College, a very well respected two-year school in the heart of Silicon Valley.
The fit between De Anza and Zero makes sense for a long list of reasons, all of which are transferable — pun very much intended — to other colleges and universities across the country.
De Anza students love leading-edge technology, and Zero Motorcycles indeed are that
De Anza students respond well to the quality and relative intimacy of interactions with motor officers
De Anza campus contains numerous narrow pathways and secret hideaways where bad stuff can happen
Foothill-De Anza Police Chief Ron Levine — tasked with the objective of promoting a safe and secure environment for students and faculty — surely saw the value of putting a couple of economically and environmentally friendly motors into service.
These motors are as silent as a panther until the officer lights 'em up, so officers can move about stealthily, sneaking up on wrong-doers before they even know there's a copper nearby.
The Zero DS has a top speed of 95 miles per hour, and a maximum range of 132 miles on a single charge. Upon reflection, I cannot think of a better vehicle to patrol a college campus like De Anza.
Great job, Chief Levine!