Harley-Davidson Offers ABS on 2005 Police Models
---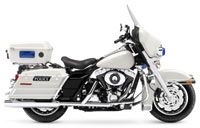 Milwaukee - Harley-Davidson will offer an optional anti-lock braking system (ABS) on three police motorcycle models in the 2005 model year. The ABS is designed to give motor patrol officers maximal braking effect without wheel lock-up in all-weather emergency situations, especially on slick roads. The system retains traditional independent front and rear wheel braking control.
The Harley-Davidson ABS will be offered on the FLHTPI Electra Glide and FLHPI Road King police models, and on the California FLHPEI Escort model. The system will not be offered with Harley-Davidson Police Sidecar installations and will not be available on the XLH Sportster 883 police model. Harley-Davidson does not plan to offer ABS on other motorcycle models available to the general public, but Harley-Davidson will continue to monitor customer interest in ABS.
Harley-Davidson has designed its first ABS to be rider-friendly and easy to adapt to. The system alerts the rider to potentially unstable braking conditions with light but noticeable lever feedback during ABS events. The system is self-diagnostic. If ABS capability becomes inoperable an ABS warning light will be illuminated, and the rider will experience normal brake lever effort and braking performance. The system has been tested to be compatible will all police radio bands.
Also new for 2005, Peace Officer and Firefighter Special Edition motorcycles feature updated tank graphics. In addition, the Firefighter Special Edition will be offered in a new color, Fire Engine Red.
Harley-Davidson has been building patrol motorcycles since 1908, and Harley-Davidson currently serves more than 3,000 departments in North America and law enforcement agencies in 45 countries. Harley-Davidson police motorcycles offer low maintenance costs, superior durability and unmatched resale value, with standard Sequential Port Fuel Injection for quick starts in all conditions and enhanced performance and fuel economy. A motor officer aboard a Harley-Davidson commands respect unrivaled by anything else on the road.
Harley-Davidson, Inc. is the parent company for the group of companies doing business as Harley-Davidson Motor Company, Buell Motorcycle Company and Harley-Davidson Financial Services. Harley-Davidson Motor Company produces heavyweight street, custom and touring motorcycles and offers a complete line of motorcycle parts, accessories, apparel and general merchandise. Buell Motorcycle Company produces sport motorcycles in addition to motorcycle parts, accessories and apparel. Harley-Davidson Financial Services, Inc. provides wholesale and retail financing and insurance programs to Harley-Davidson/Buell dealers and customers.