Emergency Vehicles, Inc. full line of law enforcement specialty units
---
EVI - Emergency Vehicles, Inc. offers a full line of Law Enforcement Specialty units that include tactical, command, surveillance, ESU, crime scene, DUI check point, bomb EOD, and any type of specialized units. 
EVI's line of Law Enforcement Specialty include: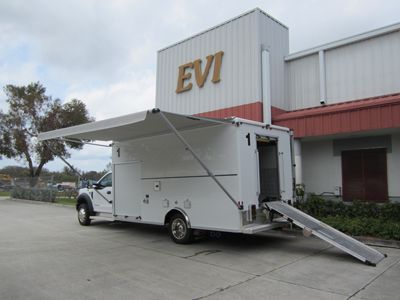 Bomb | EOD Units
EVI offers Bomb Squad Vehicles with easy to deploy robot ramps, electric and manual awnings, command work stations, air control walk-in space, walk-around configuration, portable lighting, generator, and much more.
Communication Units
Communication Centers are utilized by Fire Departments and Law Enforcement Agencies to provide communication support on scene sites. EVI offers Communication Trucks with walk-in air control work area, satellite and antennas, slide outs to provide more work room, and much more.
Conversion Units
EVI Conversion Units are designed and built to fit each departments' needs. SUV, Transit Vans, and Trucks are utilized by Law Enforcement agencies as Battalion Chief Vehicles, Communication Vehicles, and other needs. EVI offers Battalion Chief Vehicles with slide out work stations, cabinets, scene lights, antennas and satellite dish, and much more for the everyday use.

Crime Scene Units
Crime Scene Trucks can cut down the setup time at scene sites while proving staff with a comfortable work area to process evidence on site. EVI Crime Scene Units can be designed with generator, water supply, fuming chamber with exhaust fan, copy stand for photography, computer work stations, portable lighting sources, outside compartments for equipment, stainless-steel countertops and diamond plate flooring for easy cleaning, additional stations for processing items for fingerprints, and much more.
Dive Response Vehicles
Dive Response Vehicles, also known as Emergency Response Vehicles or Underwater Recovery Units, are utilized by Law Enforcement agencies to respond to special operations. EVI offers Dive Response Trucks with decontamination stations, electric winch, portable lighting, generator, salvage/overhaul equipment, and much more.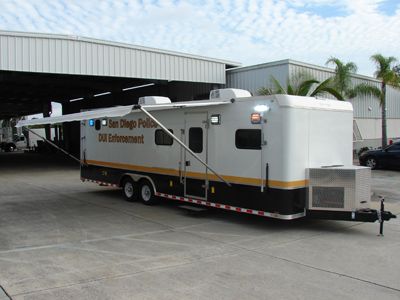 DUI Enforcement Units
Mobile DUI Enforcement Centers are used by Law Enforcement for roadside sobriety checkpoints for mobile processing/ booking. Some features of delivered EVI custom DUI Enforcement Trucks include incarceration cells, air conditioning control work areas, radio and dispatch work station, generators, awnings, scene lights, outside compartments to store equipment, and much more.
Mobile Command Vehicles
A custom Mobile Command Police Center can be dispatch to any situation to be utilized as meeting areas, radio command centers, WIFI hubs, communication capabilities, and much more. Some of the features incorporated into past EVI custom Mobile Command Vehicle builds include TV Satellites, antennas, slide outs to allow for more room, scene lights, outside compartments for storage, cabinets, generator, restrooms, awning, outside TV and work stations, light tower, portable lighting, easy roof access and storage, coffee and snack bars with sink, and much more.
Specialty Vehicles
EVI can custom design and manufacture tractor trailers, SUVs, and all size trucks. Some of the past Specialty Vehicles built by EVI include Hazmat Decontamination Truck CBRNE, Emergency Service Units, Hostage Negotiation Vans, K-9 Bomb Detection Transportation Trucks, USAR Trailers, Incident Response Vehicles, Helicopter Support Unit, Battalion Command Tractor Trailers, and much more.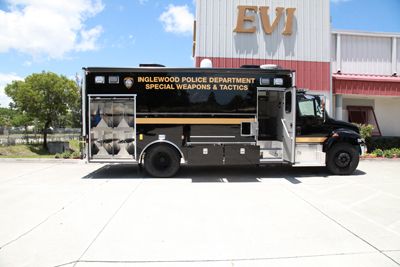 Tactical | SWAT Units
Some of the features of past built EVI Tactical Units include storage bench, outside compartments, roof compartments, walk-in air-conditioned work areas, scene lights, awning, outside work area, communication antennas, tripod lights, light tower, slide outs, cabinets, and much more.
Trailers
EVI custom Trailers can be designed and built for multiple uses. Some of the past Trailers converted by EVI include DUI Enforcement Posts, Haz-Mat Trailers, USAR Trailers, and Command Trailers. Some of the features include walk around and walk-in configurations, outside and roof compartments, slide out and slide down equipment trays, air control work area/station, incarceration cells, pull down roof ladders, generators, tripod LED lights, awnings, and much more.
Surveillance
EVI has developed a full line of custom manufactured covert surveillance platforms designed exclusively for law enforcement. Several innovative concepts in the air conditioning system, structural design integration, interoperability, ergonomics, power management, and video management system have decisively separated the EVI covert surveillance platforms from the competition, virtually setting the benchmark for future surveillance platforms.
For further information on EVI products or to talk to an EVI Sales Representative, please e-mail us at sales@evi-fl.com or call 800-848-6652.
About EVI - Emergency Vehicles, Inc.
Emergency Vehicles, Inc. (EVI) has served the industry since 1971; custom designing, manufacturing, and placing into service emergency response vehicles. We are recognized as a business with a SOLID reputation for integrity and ethics. Since being founded by Ernst R. Temme, the company has expanded to its present status as one of the country's premier emergency vehicle manufacturers. EVI has delivered in excess of 3000 fire-rescue and law enforcement vehicles in the United States and Internationally. The company has a strong cultural dedication to maintaining the highest standards of excellence in craftsmanship, design and service. 

EVI is constantly in search of ways to better serve our customers through advanced technology and new product concepts and applications. We are proficient in body fabrication using aluminum products. A full array of commercial and custom chassis' are offered to meet each customers' individual needs. Refurbishment of existing vehicles are also available.

Request more info from EVI Emergency Vehicles, Inc.
Thank You!