NC chief: Social media, high-profile shootings make hiring officers harder
Chief Kerr Putney said police conduct is scrutinized on social media, and officer-involved shootings have attracted protests
---
By Jane Wester
The Charlotte Observer
CHARLOTTE, N.C. — The Charlotte-Mecklenburg Police Department has made progress this year toward filling its ranks – but there's still a long way to go.
It's harder to recruit new officers than it was even two years ago, CMPD Chief Kerr Putney said. Police conduct is scrutinized on social media, and officer-involved shootings in Charlotte and elsewhere have attracted protests.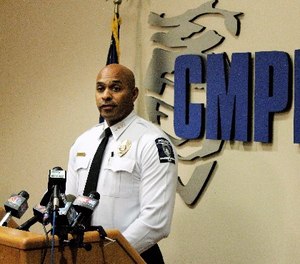 "We've been struggling," Putney said. "Since last year, in the area of diversity, which is what we really were making some headway in, we've seen almost a 60 percent reduction in our ability to attract African-Americans in particular."
CMPD recruiters have tried reaching out to veterans and various other specific groups, but on Nov. 1, the department launched a push to recruit a different group: police officers employed elsewhere, who might be interested in moving to Charlotte.
Putney said the department has enough flexibility in its budget to pay these officers based on their experience in other departments, along with extra money if they'll live inside CMPD's service area or if they speak Spanish. The final cost will depend on how many officers are involved – the goal is to hire 60 of these transfers at a minimum, CMPD said.
In June 2016, City Council approved Putney's request to add more than 60 new officers across several police academy classes. The department currently has about 150 vacancies and 70 officers in training, Putney said. That's a decrease from 200 vacancies at the start of 2017.
Officers have been working overtime to fill the gaps, which costs money, takes officers away from their families and is hard on their bodies, Putney said.
Hiring officers from other departments has advantages, Putney said – they require less training and their past performance can be carefully screened, for example.
The transfers will go through four to six weeks of training when they reach Charlotte, including sessions on implicit bias and other community issues, Putney said.
"They don't get exempted from any of that training, because that training establishes a culture," Putney said.
Hiring more experienced officers will help CMPD through the next few years, when the retirement rate is expected to be higher than average. Officers who joined the department through grant programs in the early 1990s will soon finish their 30 years of service and retire.
Some current CMPD officers transferred from other departments, but now CMPD is getting the word out that they're focusing on these hires, the department said.
Officer Shaun Ward, who transferred from Asheville three years ago, said he was drawn to CMPD's eagerness to think outside the box.
©2017 The Charlotte Observer (Charlotte, N.C.)
McClatchy-Tribune News Service