Words matter: The killers in our classrooms
---
In my opinion, Lieutenant Colonel Dave Grossman is the world's leading authority on juvenile mass murder, active shooters in schools, or any other linguistic construct you use for the concept of killers in our classrooms. As a historian, Grossman's knowledge is exhaustive. As a tactician, his ideas are at once simple, logical, practical, and doable. 
In preparation for my column today on 15 'big ideas' for stopping school massacres, I reached out to Colonel Grossman, and what he said had an immediate and indelible effect.
"I think the first thing we should explore is the terminology we have chosen to use for these crimes," Grossman told me.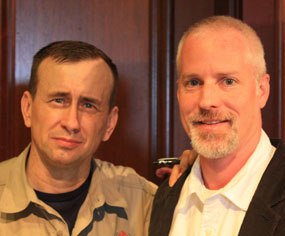 "These aren't 'shootings.' They're massacres! The Boston Massacre left five dead, and it was one of the events that set off the American Revolution. The infamous St. Valentine's Day Massacre left seven dead. These historical events were famous, but add up the Boston Massacre and the St. Valentine's Day Massacres and you still have more dead in Columbine. Double that number and you still have more dead in Sandy Hook or Virginia Tech. These are massacres, and I believe our society's failure to call these events by their proper term is just another symptom of our deep denial as to the full magnitude of this problem."
Grossman went on to say that these mass murderers in American schools are not 'shooters.' 
"Do you wonder why it seems the media immediately turns on the cop in any shooting? Because we told them 'shooting' is a synonym for 'mass murder' and we told them 'shooter' is a synonym for 'mass murder'."
Grossman correctly pointed out that cops are shooters — hell, I'm a shooter — and coppers might even have to be a killer, taking a life in defense of innocent lives. 
"Police officers are NOT murderers!" he exclaimed. "Words have power! As long as we use the word 'shooter' to refer to the most horrific mass murders in history, then we are condemned and damned by our own words any time a cop is a 'shooter'."
I had already written a few times on the topic of school massacres when I met Dave Grossman in early 2010. I had a relative living in Russia when Beslan happened — we're approaching the 10-year anniversary of that attack, incidentally — so I was already pretty keyed in on the subject, but after attending Dave's seminar, I was inspired to make this subject one of my primary areas of study, and areas of coverage here on PoliceOne. 
The column I did following Dave's May 2010 seminar — Active shooters in schools: The enemy is denial — remains the single most-read piece I've done for PoliceOne (and as of today, I've done more than 750 columns in this space). I've written a half dozen other columns with that prefix "Active shooters in schools:..." unwittingly perpetuating terminology which carried with it unintended consequences.
Grossman — as always — makes a great point about the language we seem to have "chosen" to use. 
When I first came on at PoliceOne six years ago, I was handed the phrases "active shooters" and "active shooters in schools" as the standard and universally-understood lexicon. 
To my shame, I never seriously questioned that terminology. That problem ends today. I'll never again use the term "active shooter" to describe these events. 
I think "killers in classrooms" just about sums it up. What do you think?