Insight Technology at Trexpo East 2008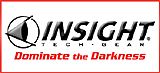 Insight Tech Gear was founded in the 1980's on the belief that a company that develops and produces reliable, high quality products that are attractively priced and delivered on time will gain the repeat business of their customers and be successful. Our mission is to design and produce rugged, high performance systems that provide a decisive tactical advantage to war fighters and law enforcement personnel.
PoliceOneTV got to talk to Insight Tech Gear at Trexpo East 2008. Check out this exclusive virtual tradeshow.
Related Links:



Visit Insight Tech Gear Web site
Are you using PoliceOne for training? Track Your Roll Call Training with PoliceOne Academy. Access our library of more than 1,200 courses and videos and manage your training on the most powerful online training tool for law enforcement. Schedule your Free Demo now