Tech-savvy NY cop uses app to locate suspect, halt crime spree
Authorities arrested a suspect by tracking him through a smartphone
---
By PoliceOne Staff
NEW YORK — A North Carolina man was arrested in New York City after authorities were able to track him through a smartphone, New York Daily News reported.
Fugitive Kendrick Keyanti Gregory, 21, had allegedly carjacked a Honda Pilot left idling outside of a bank. When responding officers realized the stolen vehicle had a GPS device linked to the owner's phone, they called in their precinct's computer whiz Officer Adam Riddick, WRAL reported.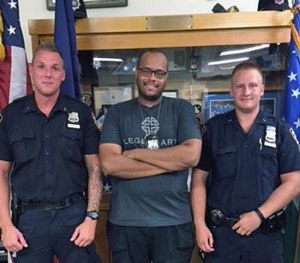 Riddick, who used to work as a specialist and tech repairman for Apple, downloaded the free vehicle tracking app Linxup on his cell phone. The officer had the carjacking victim sign in on her account and use the app to track her SUV throughout the city.
Authorities found two guns on Gregory after he was located and taken into custody. 
"He was a one man crime spree," said NYPD Chief of Patrol Carlos Gomez to the New York Daily News. "Over a two-day period he committed murder, rape, robbery, assault, burglary and (car theft)."
Gregory had just been released from prison for another car break-in.
The 48-hour rampage started in Raleigh Aug. 30 when the suspect allegedly carjacked a man at gunpoint, then stole a BMW at gunpoint. The next day, he allegedly shot and wounded a man before stealing his wallet, shot and killed a 64-year-old pawn shop owner, stole a gun from the pawn shop and used it to rape a 15-year-old girl. 
"God knows what he would have done in New York," NYPD Commissioner Bill Bratton said to the publication. "He was totally out of control."