Former NY Giants player arrested after leading drunken pursuit on scooter
An officer used a TASER to subdue the former University of Iowa player
---
By Lee Hermiston
The Gazette
OSKALOOSA, Iowa  — Former Iowa football player Tyler Sash was arrested in his hometown this weekend after drunkenly fleeing from police on a scooter and resisting arrest.
According to Mahaska County court records, Tyler Sash, 25, of Oskaloosa, was driving his scooter around 1:30 a.m. Saturday in his hometown when an Oskaloosa police officer attempted to pull him over.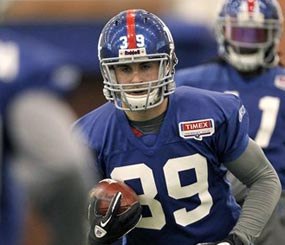 Police said when the officer activated his emergency lights, Sash continued to drive on his scooter, before ditching the scooter and fleeing on foot. Sash ignored several orders to stop and go to the ground, according to court documents. During the chase, Sash reportedly attempted to hide behind a tree and fell down. An officer used a Taser to subdue the former University of Iowa player.
The officer said Sash smelled strongly of alcohol, appeared to be intoxicated and admitted to drinking six "drinks" in the last hour. Sash allegedly told the officer he was over the legal limit for alcohol and refused a breath test.
Police said Sash resisted officers as they were handcuffing him.
Sash faces charges of public intoxication and interference with official acts, both simple misdemeanors. He is scheduled to appear in court on the charges on Wednesday.
Sash played for the Hawkeyes from 2008 to 2010, starting 37 games, including the final 34 of his college career, according to the University of Iowa football team's website. His 13 interceptions rank fifth in school history and his 392 interception return yards are an Iowa career record and rank fourth all-time in the Big Ten Conference, according to UI.
Drafted by the New York Giants in 2011, Sash had 25 tackles in the NFL and one forced fumble. He was cut from the team in August 2013.
Copyright 2014 The Gazette
McClatchy-Tribune News Service