Five years later: 9-11 commemorations
---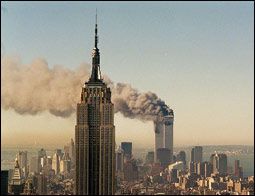 (AP Photo/Marty Lederhandler/FILE)
Five years after the devastating attacks of September 11, 2001, Lead
Street Survival Seminar
Instructor Dave Smith says it is important to take a moment to remember the lives lost today and reaffirm the need for vigilance. 
"We need to always take the time around this day to remember the sacrifice of our brothers and sisters," Smith said. "But we also need to take time in this moment of refection to remember that these sacrifices obligates you to do what you can to stop it from happening again." 
Smith said there are good aspects to take away from this day, and it should not become just a day of mourning. In the future 9-11 will probably turning into a national day of remembrance, but mourning is just lamentations. 
"When remembering their courage, heroism and sacrifice give thanks for those men and women and reaffirm that we will not let them down. We owe that to them and the future generations."
First responders, relatives of those killed aboard United Flight 93 to gather at crash site
SHANKSVILLE, Pa.- Those first to arrive at the crash site of United Airlines Flight 93 five years ago found only a smoking crater, singed trees and an eerie silence...
Ground zero falls silent and US holds remembrances for fifth 9-11 anniversary
NEW YORK- The United States solemnly observed the fifth anniversary of the Sept. 11 attacks Monday with moments of silence timed to mark the World Trade Center jetliner crashes and quiet remembrances held around the country...
L.A. port bomb threat turns out to be a hoax
SAN PEDRO, Calif.- Authorities investigated Pier 300 at the Port of Los Angeles Monday morning after receiving an anonymous bomb threat, which was later determined to be a hoax...
Another attack isn't a matter of if, but when
WASHINGTON- The threat of terrorism against the United States remains chillingly lethal five years after 9/11, and officials predict another massive attack is not a matter of if - but when...
Thousands walk from National Mall to Pentagon to remember Sept. 11 victims
WASHINGTON- Thousands of people gathered on the eve of the five-year anniversary of the Sept. 11 attacks to walk from the National Mall to the Pentagon, where streaks of light projected into the night sky will honor the victims...
New al-Qaida video on eve of Sept. 11 anniversary shows bin Laden planning attacks
CAIRO, Egypt- A videotape posted on the Internet, purportedly by al-Qaida, showed previously unseen footage of a smiling Osama bin Laden and other commanders in a mountain camp apparently planning the Sept. 11 attacks on New York and Washington...
World remembers Sept. 11 with memorials, renewed determination against terror
TOKYO- U.S. allies in the war on terror marked the fifth anniversary of the Sept. 11 attacks with memorial events for the victims and renewed resolve to keep fighting...