Ex-trooper charged with murder in teen's death on ATV, held on $1M bond
Mark Bessner fired his TASER at Damon Grimes while trying to stop him from driving an ATV on a street, causing the teen to crash
---
By Allie Gross
Detroit Free Press
DETROIT — A former Michigan State Police trooper was jailed on $1 million bond after his arraignment Thursday morning on a murder charge in the death of a Detroit teen who was Tasered while fleeing on an ATV.
Mark Bessner, 43, who appeared in 36th District Court in a dress suit, was led away by bailiffs to jail after his arraignment before Magistrate Bari Blake Wood.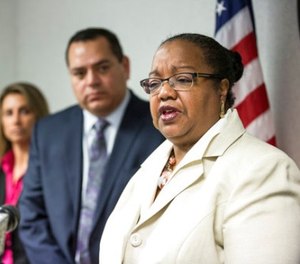 Sitting quietly in the courtroom, Bessner looked straight ahead as his attorney, Richard Convertino, unsuccessfully argued for a personal recognizance bond. Convertino later told reporters he did not think Bessner would be able to post the $1 million bond.
Bessmer, who resigned from the state police shortly after the Aug. 26 incident, pleaded not guilty to one count of second-degree murder and two counts of involuntary manslaughter. Second-degree murder carries a maximum penalty of life imprisonment.
"He's been in the community for almost 20 years, he's been in law enforcement for almost a decade, prior to that he was a practicing attorney, he has a home in Wayne County, his wife is fully employed as a special agent in the government, he has a child, he's not going anywhere, judge," Converntino argued, as a man sitting in the courtroom wearing a shirt with a picture of 15-year-old Damon Grimes, remarked "Psh, yah," to the child comment.
The prosecutor's office argued that "special treatment" should not be given to Bessner, and that he be treated as any other defendant in a murder case.
Bessner is due back in court for a probable cause conference on Jan. 4.
Bessner is accused of shooting Grimes with an electronic stun gun from his moving patrol car as the trooper and his partner chased the boy on his ATV, according to Wayne County Prosecutor Kym Worthy.
A prong hit the teen, who subsequently crashed into a parked truck. He was pronounced dead at a hospital less than 30 minutes later.
"Trooper Bessner unnecessarily deployed his Taser at Mr. Grimes without legal justification or excuse as Mr. Grimes was traveling at least 35 to 40 miles per hour," Worthy said Wednesday at a press conference announcing the charges against Bessner.
"We are alleging that trooper Bessner created a very high risk of death or great bodily harm, knowing that death or such harm was the likely result, by firing his Taser from his moving police vehicle at Damon Grimes who was also on a moving ATV," Worthy said.
Michigan State Police said it's against policy to deploy a Taser from a moving vehicle. Bessner resigned in September and two other state police employees were suspended that same month. No criminal charges were filed against the two people who remain suspended and an administrative investigation has been launched by MSP into the incident, officials said.
Bessner, who joined MSP's Metro Post in 2012 after serving three years with Canton Township Police Department, has a history of excessive force allegations, according to court records obtained by the Detroit Free Press. Since 2013, two different civil lawsuits, both involving Tasers, have been filed against the former trooper for alleged excessive force.
©2017 Detroit Free Press
McClatchy-Tribune News Service