NY OKs $50K payment to pepper-sprayed Occupy protester
In recent weeks, the city settled six other similar suits for a total of $332,500
---
Associated Press
NEW YORK — New York City has agreed to pay over $50,000 to an Occupy Wall Street protester who said police unjustly blasted her with pepper spray.
Lawyers for both sides said Tuesday they resolved Kelly Schomburg's suit for $50,001, plus yet-to-be-determined legal fees.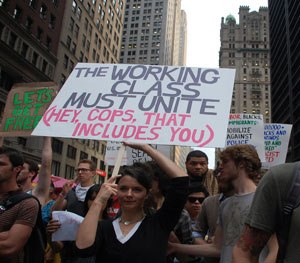 Schomburg's lawyer, Debra Lea Greenberger, says the agreement "provided a measure of justice." The city Law Department says ending the case was best for the city.
The Daily News first reported the settlement.
In recent weeks, the city settled six other similar suits for a total of $332,500.
Online video of a September 2011 Occupy march showed police Deputy Inspector Anthony Bologna pepper-spraying protesters corralled behind orange netting. The images helped galvanize the anti-economic-inequality movement.
Bologna was docked 10 vacation days for violating police department guidelines.
Copyright 2015 The Associated Press
Copyright Associated Press. All rights reserved. This material may not be published, broadcast, rewritten, or redistributed.