Fla. detective run over, 'seriously injured' while trying to arrest kidnapping suspect
The detective, whose name has not been released, suffered internal injuries and broken bones
---
Kavitha Surana
Tampa Bay Times
PLANT CITY, Florida — A Plant City detective was run over and seriously injured while trying to arrest a kidnapping suspect Wednesday, authorities said. That led to a manhunt that ended hours later with a Polk County deputy shooting the wanted duo.
Aaron Phillips, 31, was fatally shot when the deputy attempted to arrest the suspects, Polk Sheriff Grady Judd said at a news conference Wednesday. April Thompson, 36, who had already been shot in the leg by a Plant City officer, suffered a stomach wound when she was shot by a Polk deputy. She was taken to a local hospital and is expected to survive.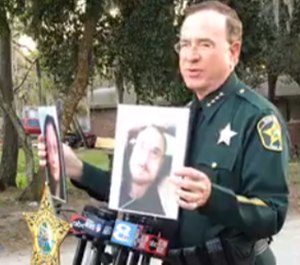 Phillips, 31, was released in August from state prison after serving four years and 10 months for possession of a firearm, possession of methamphetamine, battery on a law enforcement officer and grand theft of a motor vehicle, records show.
Then an arrest warrant was recently issued for Phillips for armed kidnapping and other charges. He had also become involved with meth dealers committing crimes in eastern Hillsborough, Judd said.
Judd warned that authorities were still piecing together what happened Wednesday, using information from three different agencies. He gave this account:
Plant City detectives spotted Phillips Tuesday, Judd said, but he got away. They saw him again on Wednesday, driving a stolen silver Tacoma with a black hood in the parking lot of United Food at 1506 Sammonds Road. They tried to pull the truck over.
Thompson was at the wheel, Judd said. She tried to escape by ramming two unmarked police vehicles. Then the truck started driving at a detective who was on the ground. Judd said they do not know if she intentionally aimed at the detective, or if Phillips leaned over and jerked the wheel toward the detective.
Sheriff Grady Judd is briefing the media about a deputy-involved shooting off of Bailey Rd in Mulberry. The investigation began in Plant City. A Plant City Police Officer was injured before the two felons fled into Polk County. No PCSO deputies were injured. One suspect is deceased. The other suspect has been transported to a hospital with at a least one gunshot wound.

Posted by Polk County Sheriff's Office on Wednesday, January 15, 2020
The detective on the ground and another detective opened fire on the pickup truck. Judd said Thompson was struck in the leg. Then the Tacoma ran over the detective on the ground, the sheriff said, and drove off.
The injured detective was left with internal injuries and broken bones, police said. He was taken to Lakeland Regional Medical Center for emergency surgery.
The detective is a 5-year veteran of the Plant City Police Department, the agency said. The second detective, whose name was not released, was not injured.
Plant City police say the couple's next crime occurred minutes later, when they carjacked a blue 1990 Toyota Tacoma. Hillsborough deputies received a call from a Plant City resident who lives in the 4000 block of Cooper Road at about 11:15 a.m.
He said a man and a woman in a silver pickup truck appeared at his door, pointed a gun at him and demanded the keys to his Tacoma. He handed over the keys and said they fled north.
Judd said the manhunt ended later Wednesday in Mulberry. A Polk County deputy spotted the duo while searching a trailer park on Bailey Place, just off of Bailey Road in the Willow Oak area near State Road 60.
While searching a trailer park at about 1:40 p.m., Deputy Andre Jackson saw the stolen blue Tacoma. Then he heard hollering on a nearby road. He recognized Philips and Thompson, this time in a black Volkswagen. Phillips was in the passenger side and Thompson was in the driver's seat. As Jackson attempted to arrest Thompson, the sheriff said Phillips started to walk away.
Jackson ordered Phillips to return to the car, which he did — but got behind the driver's wheel. The deputy let Thompson go and scrambled to get Phillips out of the car. During the scuffle, the car started to back up and Phillips reached down toward the floor, Judd said. A nearby woman yelled: "He's got a gun!"
Jackson then fired his weapon. In that moment "he truly believes that Aaron Phillips is retrieving a gun to shoot him," Judd said. The sheriff said a gun was later found between Phillips' legs.
Thompson, who had already been shot in the leg by a Plant City detective, was in the backseat, Judd said. She ended up getting shot in the stomach in the encounter with the Polk deputy.
"There not many people who get shot twice in one day by two different police officers in two different jurisdictions," Judd said. "But she did."
McClatchy-Tribune News Service