Judge: City's police fitness test discriminated against women
The test "shamed and ostracized" the 12 plaintiffs - many of them decorated officers with decades of service - while providing "meaningless" results
---
By Jakob Rodgers
The Gazette
COLORADO SPRINGS, Colo. — A fitness test given to Colorado Springs police officers discriminated against women and violated civil rights laws, a federal judge ruled Wednesday in a two-year lawsuit.
The test "shamed and ostracized" the 12 plaintiffs - many of them decorated officers with decades of service - while providing "meaningless" results, ruled U.S. District Judge Richard Matsch.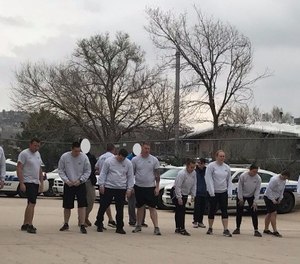 Performing poorly on the test left officers at risk of losing their jobs, despite the benchmark scores being "arbitrary" and the evaluation having little to do with the officers' everyday work, Matsch said. Significantly more women than men failed it.
"To retroactively impose that requirement on women who have invested their lives as career police officers is fundamentally unfair," Matsch wrote.
The ruling that Colorado Springs violated Title VII of the Civil Rights Act of 1964 leaves the city on the hook for a possible payout to the plaintiffs for wage loss and emotional distress. A hearing on damages is expected to be set in the coming week.
A California civil rights advocate said it also sends a message to municipalities across the nation to avoid such fitness tests for potential hires and veteran employees.
"If municipalities are going to use tests like this, they have to make sure there's a scientific basis behind them," said Jocelyn Larkin, executive director of the Impact Fund. The organization helps bankroll civil-rights lawsuits, and it contributed $30,000 to this case.
Donna Dell'Olio, an attorney representing the women, praised the ruling as a victory for women seeking to join the force.
"The women are wonderful professionals, and all they wanted was to be able to serve crime victims and the citizens of Colorado Springs," Dell'Olio said. "And now they're going to be allowed to do that."
Ten of the dozen plaintiffs remain on the force, Dell'Olio said. One has since moved to Wyoming, and another left the department amid fears she'd lose her job for failing the test.
"They did this at great peril to their careers," Dell'Olio said. "And they did it for the younger women who are coming up behind them."
A statement from the Police Department said "the city has received the ruling, is reviewing it, and evaluating the city's options."
The issue dates to 2009, when former Chief Richard Myers mandated all officers undergo fitness tests, and the department hired Human Performance Systems of Beltsville, Md., to create the evaluations. They included one-minute sit-up and push-up tests, as well as two running tests, one of which focused on agility.
Practice tests in 2013 showed deep disparities in women's and men's success rates, the lawsuit said.
Forty-percent of women failed the test, compared to just 9 percent of men. Women police recruits tested that year fared slightly worse, while men did slightly better.
Still, a 2014 order by Myers' successor, Chief Pete Carey, mandated each officer pass the test annually. Officers who failed the first test were relegated to desk duty, while those who failed after six months of trying could be fired.
All 12 plaintiffs failed on the first try, including Maggie Santos, a lieutenant at the time overseeing the department's Internal Affairs division.
She retired after 24 years in the department, in favor of taking another job as director of campus safety at a college. In leaving early, Santos said Wednesday that she left "significant" pension benefits on the table.
The risk of being fired without a place to go was too great, she said, especially as her kids neared college.
"It was horrible," Santos said. "I didn't want to leave. That isn't when I had planned to retire. I still had more career in front of me, and it was taken."
In issuing his ruling, Matsch relied on complex statistical analyses highlighting the disparities women faced.
He said some of the evaluations - such as the push-up test - favored men, while "not being designed to evaluate an officer's overall suitability for duty."
The Police Department also erred in making the test a sole criteria for an officer's firing, rather than as "one component," he said.
In the process, Matsch noted that the Police Department's use of a fitness test for current employees - not applicants - was unprecedented.
Santos said Matsch's ruling was bittersweet.
"The reason why we did it was for the younger women," Santos said. "They won't appreciate it now when they're in their 20s, but in 20 to 25 years, they'll appreciate what we did, and we're doing it for them."
———
©2017 The Gazette (Colorado Springs, Colo.)
McClatchy-Tribune News Service